The BEST Way To Generate Leads In 90% Of Industries
A new report from Bizible analyzed more than 480,000 leads through its Salesforce marketing analytics platform and the data showed that Search does a better job of generating leads than any other marketing channel.
A Hubspot report last season showed that SEO provides the best ROI of any inbound marketing channel, and the Bizible study reinforced that data. There is a subtle difference between the two reports as the Hubspot report was able to track both SEO and PPC separately. In the Bizible study they combined both organic and PPC under the single search umbrella.
The Bizible data showed that when looking at first touch, Search drove 56% of leads generated. When looking just at last touch, Search accounted for 41% of the leads generated.
Not a surprise then that the combination of Search first touch and Search last touch was the most productive channel for lead generation, accounting for 37% of all leads from first/last touch combinations.

For those marketers who believe that search will not work in their market, Bizible refuted that. The data showed that Search was the leading channel for 9 out of 10 of the industries measured for generating leads by first touch. The software/SaaS sector was the only sector in which search did not drive the majority of first touch leads.
Don't Overlook Social In Lead Generation Process
Social is a market that has really matured into a valuable inbound marketing channel in the last year of so. When Bizible looked at the percentage of closed deals that were won by first touch in each channel, social impressively came in third with a 30% win rate, despite driving just 5% of leads. Social impact on lead generation is a not widespread yet because the social leads were concentrated among two industries; Education and Finance.
Note that Direct and Search had the two highest closed rates at 56% and 40% respectively with Display having the worst at only 12%.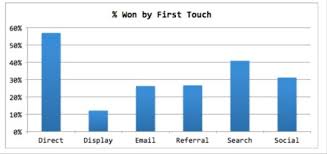 Social shortens the length of the marketing cycle. When Social was the first touch, the marketing cycle was 30% shorter than average.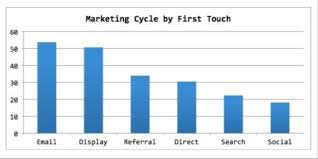 Search is the most popular first touch channel for lead generation accounting for 56% of all leads acquired. Search, especially organic SEO, has to be a part of your company's inbound marketing strategy. Whether your market is B2B or B2C, Search generates more leads, more cost-effectively.
The Bizible report shows that the last touch severely undervalues the top of the marketing funnel and does not account for the buyer's decision journey. Companies need an inbound marketing analytics program that allows for Multi­touch attribution.
You can't ignore Social in B2B marketing; it has a 30% shorter marketing cycle than the average inbound channel. Social is not just for posting statuses anymore. It is also a valuable lead generation channel.
The full paper "Multi-touch Attribution for Companies with Sales Teams" is available for download here.
We're offering a free inbound marketing assessment. We will evaluate your current website, and show you the most direct ways you can get more traffic and leads from your website.
Click here to receive our FREE Inbound Marketing Assessment.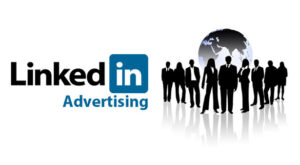 LinkedIn: the Number One Network for B2B Marketers In the last couple of years, LinkedIn has transformed from merely a professional networking and job-seeking site
Read More »