When it comes to social media and business, 2015 Social Media Benchmarks Report is an incredible source of information. Showing social data from over 7,000 businesses across 9 industries, the report grants insight into how other similarly sized companies, within your market, are succeeding with social media.
While there is much to learn from the vast amount of data within the report, these three lessons are the ones you'll really want to hang onto: .
Quality Tops Quantity
The common belief is that by increasing the number of social media posts you publish per week, you have a greater positive effect on overall engagement levels. The HubSpot report shows that that is not true.
According to the report, there is no discernible correlation between the average number of posts companies publish per week and the average number of interactions (e.g., likes, retweets, etc.) each of those posts receives.
Demonstrated in the graph below, there is no clear correlation between posts published per week (blue) and interactions per post (orange). If there were a correlation, the dotted blue and orange lines would follow a similar pattern.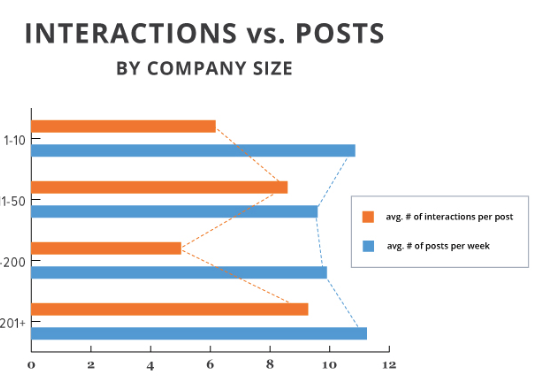 By the data shown in this graph, it seems more reasonable that the quality of each post is a greater determinant of positive engagement than the number of posts shared.
Size Matters
Quantity is important (with quality in tow) when it comes to social media followings. The below data demonstrates that the larger the following of a person, company, or brand, the more engagement they will have with their consumers.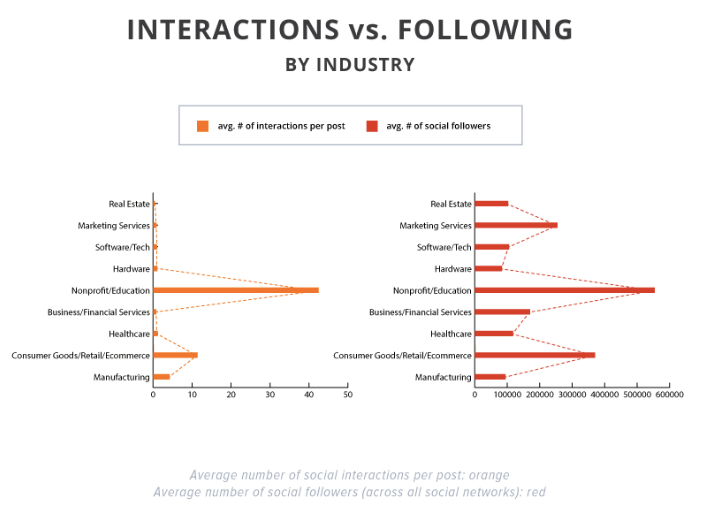 Mathematically—and logically, this data makes sense. If a business has a huge social following, they'll naturally receive more likes, retweets, shares, etc. per post than a business with a tiny following. It's a matter of probability: a business with a huge following has more people it can potentially engage, so the odds of getting someone to engage are better.
The Number of Posts Vary According to Industry and Company Size
The final takeaway from the HubSpot Social Media Benchmark Report reveals that the frequency of social media postings varies by industry and company size.
The average number of social media posts that companies publish per week across all of their social networks is shown in the two graphs below.
The first graph illustrates the average number of posts published per week by industry.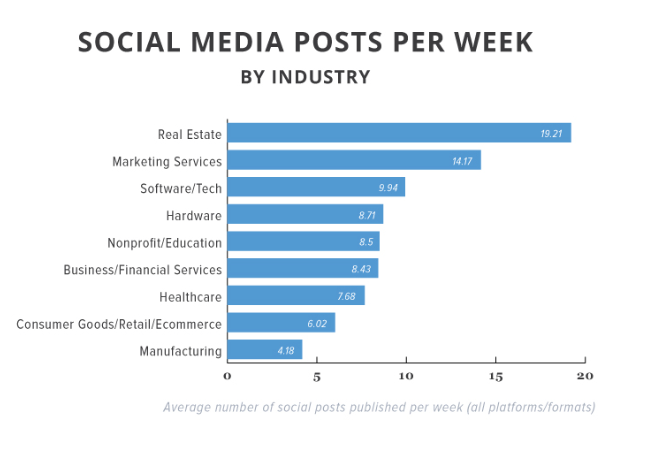 The second graph shows the average number of posts published per week by company size. HubSpot divided companies by size into the following buckets: 1-10, 11-50, 51-200 and 201+.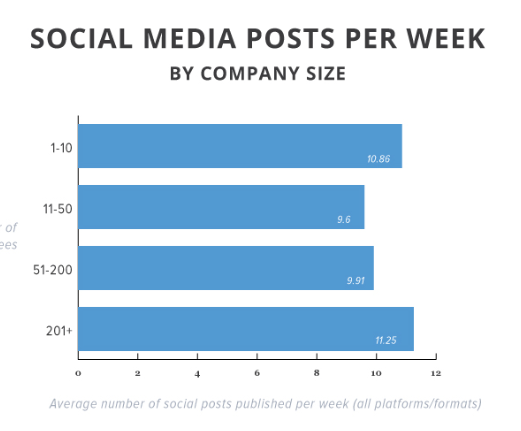 Because there is no one size fits all when it comes to social media marketing, it's important to understand your market and develop a social media marketing strategy before you begin actively posting.
To discover how to optimize your social media posts with a strategy customized for your company, please fill out the form below:
If you need help amplifying your website content via social media, contact Braveheart Digital Marketing. We're a
social media agency in Manchester NH
that can help you reach your target audience and achieve your marketing goals. Contact us today to learn more!>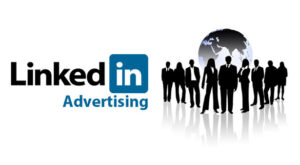 LinkedIn: the Number One Network for B2B Marketers In the last couple of years, LinkedIn has transformed from merely a professional networking and job-seeking site
Read More »